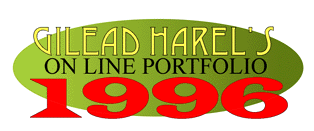 This portfolio was written and designed by Gilead Har'El,
A first year student in the Technion's Architecture department.
This is my portfolio for the second semester, required by the course
"An Introduction to Architectural Design"
My teachers in this course are Arch. Dr. Gabriela Goldshmit and Arch. Dafna ( )

All photographs, drawings, tables, diagrams etc. were made by Gilead Har'El and are copyrighted by the same.